KPV Laminate Tube Features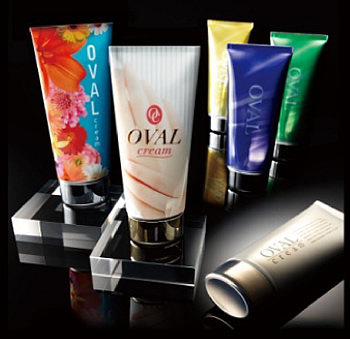 Make each tube the client's in-shop sales force.
Container + Value added = Eloquent Salesperson in Storefront
With goods and services, we ensure to provide effective assistant tools for sales and branding.
Kyodo Printing has a history of evolving its printing technology, the essence of packaging, for longer than a century. Its best team, having succeeded this valuable heritage, provides each of its precious customers with the best packaging solutions possible.
Making tubes out of a technological fusion between Japan and Switzerland.
Excellent barrier to protect product efficacy and aroma, ensuring optimized shelf life.
For PBL (plastic barrier laminate), besides conventional EVOH, an advanced type of barrier, glass-particle-blended plastic barrier layer is also available.
Soft texture, elasticity and dead-fold
Application of printing technology with century-long evolving history.
Up to 6 colors of flexography decorates laminate tubes. Premium decorations: pearlish surface, cold and hot stamps, and metallic effect are available.
Full print, or 360-degree printing, decorates even the side seam, to create literally seamless tubes.
Oval laminate tubes own wide space for decoration that sends main messages to consumers. This enhances customer appeal greatly.
Numerous options to accentuate the charms of products.
Our MOQ (minimum order quantity) is as low as 5,000 tubes per order.
Customize caps and closures best suited for the tubes with matching colors and hot stamps.
Flip-top and oval caps are available to match premium and oval tubes.
Design center, located in Japan, designs and proposes a whole package of container solution.
– Tube options –
One of the strengths of the Kyodo Printing (Vietnam) Co. Ltd. is its close business liaison with the head office (Kyodo Printing Co., Ltd.)
All information collected by the Kyodo Printing sales force is communicated to and pooled at the Innovation Center. After thorough technical and market research, one of the world's best R&D team develops new packaging solutions based on this information and contemporary market needs.
We provide holistic solutions that cover from tube design to supply chain that are most suitable for each customer.
ABL(Aluminum barrier laminate tube)
If the oxygen and water vapor transition rates of regular polyethylene (PE) is 1, those of aluminum (AL) foils used for our ABL (aluminum barrier laminate) tubes is nearly 0. This foil covers the entire surface of ABL tubes except for the cap and shoulder parts. Its barrier effect is a lot superior to regular poly and extrusion tubes. This will ensure extended shelf life of the main product.
Also, cosmetics and FMCG manufacturers could take advantage of the metallic appearance of this foil. This is much more cost efficient than hot or cold stamping.
PBL(Plastic barrier laminate tube)
These transparent and opaque laminates possesses very robust barrier protection property, second to ABL. PBL consists of plastic barrier, having the elasticity and processability of plastics. Kyodo Printing has applied a plastic barrier technology that covers the weakness of conventional EVOH barrier, the high OTR.
Transparent PBL tubes are best suited for products with which visibility of content to the consumer is a key.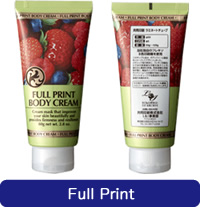 A combustion of Kyodo Printing's film-to-ink lamination skills and printing technology has enabled its group companies to perform high quality 360-degree printing.
The capability of printing on the side seam creates a beautiful finish.
By mold into oval (oval shape), the larger flat surface can catch consumers 'attention. Not only is it excellent as an superior communication tool to appeal to consumers, but as beautiful packaging. Variety in design options is infinite. If you take advantage of this with other decoration features like 360-degree printing and the metallic effect of ABL, you can create luxurious looks to your product.
Screw, flip-top, oval caps are available options. Matching-color caps and tube bodies are possible. The Kyodo Printing Group continuously creates new innovative forms of caps.
soft hand touch and elasticity
Unlike other plastic tubes, laminate tubes are made of thick, multi-layered laminates, so they are elastic and feel good on your hand. Not only excellent in functionality, but also combines luxurious feel.
*There are combinations of options not available depending on the order quantity, tube size, or tube shape.
Please refer to the specifications list .
Laminated tubes
Kyodo Printing has expanded its laminated tube business, which has the number one market share in Japan, into the new land of Vietnam.
Laminated tubes have excellent light, oxygen, water, and gas barrier. Also, they are compatible with flexography, which is suitable for gradations and realistic picture depictions. Thanks to the flexo printing compatibility, laminate tubes can be used for a wide range of products including personal care goods, cosmetics, and pharmaceuticals.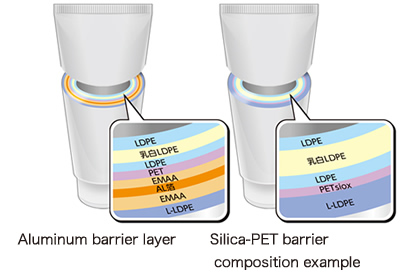 Flexographic printing
manufactured in a small lot is possible
Hot stamp decoration
Laminated tubes are tubes made of multiple-layered laminates, whose components include aluminum- or silica-PET film, excellent in barrier protection.
Because of the effective barrier protection, they are capable of preserving products from quality deterioration.


Flexography is compatible with small production runs and much more cost efficient than gravure printing.
It is also capable of depicting very fine gradations and pictorial coloring.
Oval laminated tube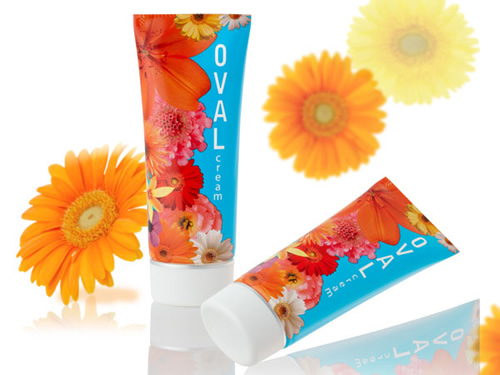 Popular with women's products!
Excellent squeezability and stylish shapes. Large flat surface can instantly catch consumers' attention.


Cosmetics (such as UV cream, BB cream), luxury hand cream, and l whole lot more.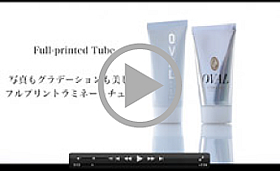 Full-printed laminated tube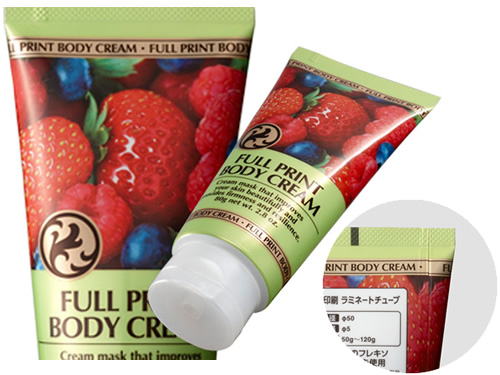 The specifications is perfect for high-class product!
Printed decoration all over the surface of the tube-from the shoulder to sealed part, to the side seam.
Laminate tubes have been gaining popularity among cosmetics and FMCGs.


Face care, hair care, body care and beyond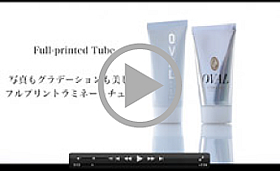 ※Small-portion pharmaceuticals, super glues, and fine art paints
Caps & closures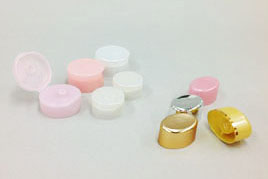 We develop UD (universal design) caps for everyone across all countries, cultures, genders, generations, etc.
Differentiate your products by choosing colors matching tube bodies.
Possess cap injection
Corresponding to the color variation
Screw cap

Screw type
Oval-molding
Hinge cap

One-touch open type
Best easy to use.
Specifications
The capacity of tubes may vary depending on the density of the content and the length of the tube. Please contact us for specifications which are not listed in the spec list.
Round
| Diameter | Cap | Orifice | ABL | PBL |
| --- | --- | --- | --- | --- |
| φ16 | Screw | φ5.0 | ○ | |
| φ35 | Hinge | φ3.0 φ5.0 | ○ | ○ |
| φ45 | Hinge | φ5.0 | ○ | ○ |
| φ50 | Hinge | φ3.0 φ5.0 | ○ | ○ |
Oval
| Diameter | Cap | Orifice | ABL | PBL |
| --- | --- | --- | --- | --- |
| φ25 | Screw | φ1.2 φ1.5 | ○ | ○ |
| φ30 | Screw | φ1.5 φ3.0 | ○ | ○ |
| φ35 | Screw | φ1.5 φ3.0 φ5.0 | ○ | ○ |